---
Park Areas:
Ash Cave
Ash Cave-Hocking Hills State Park-Logan, Ohio 
Hemlock lined trails, wooden stairways and a huge waterfall have captivated visitors to the park for hundreds of years. As you enter the recess cave, look to the right for a massive, moss-covered rock. Aptly named "Pulpit Rock", it was used during the 1800's as a platform for local preachers to give sermons to their congregations in the cave.

---
Old Man's Cave
Old Man's Cave-Hocking Hills State Park- Logan, Ohio
Rugged Cliffs, recess caves and cascading waterfalls line the trails of this Ohio State Park attraction.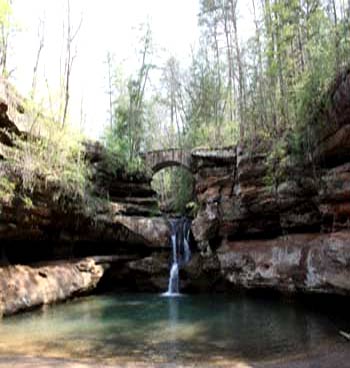 ---
Cedar Falls
Cedar Falls-Hocking Hills State Park-Logan, Ohio
Bridges, wooden steps and tree-lined walkways make this one of Ohio's most popular hiking trails. Once, a grist mill stood not far from the top of the waterfall.

---
Lake Hope State park
The land at Lake Hope State Park was once the prospering iron-making town of Hope. The remains of one of the iron furnaces can still be viewed. There is hiking, backpacking, fishing, a seasonal swimming beach and canoeing at the park.

---
Moonville Tunnel
Long gone is the mining and railroad town of Moonville that once stood along the banks of Raccoon Creek. But many believe the ghosts of its past still walk the tunnel which is part of Ohio's Rails to Trails.

---
Lake Alma State Park
292-acre park with a quiet 60-acre lake. Fishing, boating and swimming are some of the wonderful activities featured at the park. There is a playground, a bike trail, and even an island that was once an amusement park that can be hiked with access from a bridge.

Other Attractions:

Information on Hocking Hills State Park Programs

---